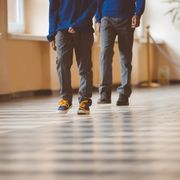 School logos should not be compulsory on uniforms, the Welsh government has said.
The government in Cardiff has published new guidance following a public consultation to find how best to support families during the cost of living crisis.
The Welsh government's education minister Jeremy Miles has said schools in Wales should "review" their uniform policies and make affordability the priority.
He said the new guidance will help schools to reduce the costs facing families.
It will also call for arrangements to be made so parents and carers have access to second-hand uniforms.
Mr Miles said: "We know that branded school wear can be a lot more expensive for families – that is why schools shouldn't make them mandatory. There certainly should not be a requirement for multiple items to be branded.
"I know that most schools are doing everything they can to keep costs down for families.
"But we have still seen too many cases where families have had to purchase expensive uniforms. The guidance we are publishing today will support schools in reducing these costs."
The minister added that any changes that schools make to their uniform policies should be shared with families before the end of the current school term.
© Sky News 2023