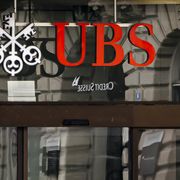 Bank stocks have fallen sharply again across Asia and Europe despite a series of measures to ease the crisis of confidence gripping the sector.
It was announced overnight, following the forced takeover of struggling Credit Suisse by Swiss rival UBS, that six major central banks, including the Bank of England, would take coordinated action to boost dollar flows.
The so-called swap line arrangement, involving the US Federal Reserve, Bank of Japan, European Central Bank, Bank of Canada and Swiss National Bank (SNB) aimed to "enhance the provision of liquidity" and the "smooth functioning of US dollar funding markets".
It was hoped that the seven-day-a-week facility, which is due to run until at least the end of April, will be enough to bolster market confidence over the health of other banks, particularly US regional lenders.
Many have seen their share prices collapse in the wake of the failure of Silicon Valley Bank earlier this month, stemming from worries that the aggressive pace of interest rate rises to tackle inflation have soured balance sheets.
However, stock markets across Asia started the week in the red again, with the Hang Seng in Hong Kong falling 2.7%.
In Europe the FTSE 100, which has lost almost 7% of its value so far this month, shed as much as 1.5% in early trading, in line with other major European indices, but later stabilised and even turned positive.
Downwards pressure was maintained by financial stocks including Prudential, Barclays and Standard Chartered – all down by around 5% early in the day.
It had been hoped that the rushed takeover of Credit Suisse, engineered by the SNB and deliberately agreed ahead of the market opening, would ease concerns.
But the fact that many bondholders were wiped out by the terms of the deal, imposed by the SNB, only added to the tensions.
Read more business news:
SVB UK hands out £15m bonuses day after £1 sale
John Lewis may seek investment to end 100% worker ownership
The 167-year-old Credit Suisse was brought to the brink of financial calamity last week, despite securing a $54bn (£44bn) credit line from Switzerland's central bank.
The credit line was agreed upon in a move aimed at reassuring markets and depositors, but it failed to stem a rush of customer withdrawals, prompting a request from the Swiss government for rival UBS to consider a takeover.
That takeover was announced on Sunday evening – UBS will pay 3bn Swiss francs (£2.6bn) to acquire Credit Suisse, it has agreed to assume up to 5bn francs (£4.4bn) in losses, and 100bn Swiss francs (£88.5bn) in liquidity assistance will be available to both banks.
The deal is expected to close by the end of this year. It was seen as potentially threatening jobs in the UK as Credit Suisse employs roughly 5,000 staff in the City.
UBS shares were more than 14% down at the open on Monday morning and later settled about 6% lower.
Colm Kelleher, chairman of UBS Group, had earlier spoken of "enormous opportunities" through the takeover.
He also said that his bank's long-term aim would be to downsize Credit Suisse's investment banking business and align it with the "conservative risk culture" of UBS.
Axel Lehmann, chairman of Credit Suisse, described the day as "historic, sad and very challenging" for his bank and the global market.
'The best available outcome'
Mr Lehmann said: "Given recent extraordinary and unprecedented circumstances, the announced merger represents the best available outcome.
"This has been an extremely challenging time for Credit Suisse and while the team has worked tirelessly to address many significant legacy issues and execute on its new strategy, we are forced to reach a solution today that provides a durable outcome."
'Exceptional situation'
In a statement, the Swiss central bank and other officials said that the agreement represented "a solution…to secure financial stability and protect the Swiss economy in this exceptional situation".
It is also hoped that UBS's takeover of its old rival will avoid the contagion of the kind seen in the financial crisis of 2008.
Central banks insist systems are resilient
The news was welcomed by central banks in the US, Europe and in the UK.
All three insisted that banking systems within their jurisdiction are strong and resilient.
The Bank of England said: "We have been engaging closely with international counterparts throughout the preparations for today's announcements and will continue to support their implementation.
"The UK banking system is well capitalised and funded, and remains safe and sound."
Credit Suisse is one of the world's largest wealth managers and is also one of 30 banks ranked as systemically important, meaning the deal's implications rippled through global markets.
Susanna Streeter, head of money and markets at Hargreaves Lansdown, said of the shifts: "Fresh worries are now coming to the surface about what could happen next.
"Focus is shifting to the implications of high-risk bond holders in banks, after holders of more risky Credit Suisse debt saw their investment wiped out."
More widely speculation mounted that the Federal Reserve, unlike the European Central Bank last week, would not impose a further rate rise on Wednesday as a result of the crisis.
© Sky News 2023