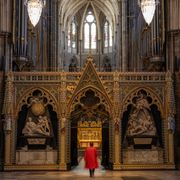 Only one very small change is being made to the wording of the King's coronation oath.
It's been confirmed the update will reflect the evolution of the realms and territories since the late Queen's coronation in 1953.
There had been calls for wider changes to the oath, but with less than three weeks to go, we finally know that won't happen.
The King will take three oaths at the beginning of his coronation. The first is a pledge to uphold the laws of the land, the second is about ruling with justice and mercy. The third, which is more complicated, is about religion.
More on the coronation:
Ultimate guide to the King's coronation
Coronation Quiche recipe revealed
King's coronation: Sneak peek as midnight rehearsals held
The change for the King's coronation relates to the first oath.
In 1953, the Queen promised to "govern the peoples of the United Kingdom of Great Britain and Northern Ireland, Canada, Australia, New Zealand and the Union of South Africa, Pakistan and Ceylon, and of my possessions and the other territories".
Pakistan became a republic in 1956 as did the Union of South Africa in 1961.
Some had questioned whether the reference to Protestantism in the third oath should be removed to reflect the diversity of religion in modern Britain.
The King has long shown great interest in non-Christian faiths, and there had been debate in the past whether the King saw his spiritual role as "Defender of the Faith", or simply "Defender of Faith". He later clarified he wanted to be "protector" of faiths.
In a written statement, the Chancellor of the Duchy of Lancaster, Oliver Dowden, confirmed after "careful consideration" there would only be "some updating" which would reflect the "evolved" number of the realms and territories.
He also said they would be referred to "collectively" rather than named individually as the late Queen did.
Click to subscribe to the Sky News Daily wherever you get your podcasts
The coronation oath is a legal obligation, and the texts of the oaths are set out in the Coronation Oath Act 1688.
Although the words have changed in the past, any substantial alterations require legislative change.
Mr Dowden said the tweaks to the text did not warrant new legislation.
© Sky News 2023