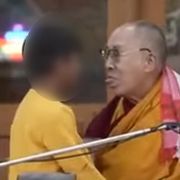 The head of Tibet's government-in-exile has defended the Dalai Lama over footage of him asking a boy to suck his tongue.
Penpa Tsering, the Sikyong (political leader) of the exiled Central Tibetan Administration, said the Dalai Lama had been "unfairly labelled with all kinds of names that really hurt the sentiment of all his followers".
He said the incident demonstrated the country's spiritual leader's "innocent and affectionate" side.
The Nobel peace laureate apologised after the footage from a public event – which also shows him apparently giving the boy a peck on the lips – was widely shared online, leading to a wave of comments on social media that his behaviour amounted to abuse.
But Mr Tsering assured reporters in New Delhi the 87-year-old's "innocent, grandfatherly, affectionate demeanour" has been misinterpreted – adding a life of celibacy and spiritual practice has taken the Dalai Lama "beyond the sensorial pleasures".
The video clip, filmed in February and circulated this month, has been viewed more than one million times on Twitter.
Mr Tsering said investigations showed "pro-Chinese sources" were involved in helping the clip to spread to a wide audience, adding that "the political angle of this incident cannot be ignored."
Officials at the Chinese embassy in New Delhi were not available for comment.
In a statement, the Dalai Lama's office said: "His Holiness wishes to apologise to the boy and his family, as well as his many friends across the world, for the hurt his words may have caused.
"His Holiness often teases people he meets in an innocent and playful way, even in public and before cameras. He regrets the incident."
The 14th Dalai Lama – whose name is Tenzin Gyatso – fled to India in 1959 after a failed uprising against Chinese rule in Tibet. China's military marched in and took control in 1951.
He has worked for decades to draw global support for linguistic and cultural autonomy in his remote, mountainous homeland situated between India and China.
Beijing has accused him of encouraging separatism and it does not recognise Tibet's government-in-exile, which represents about 100,000 Tibetans living in around 30 countries.
© Sky News 2023