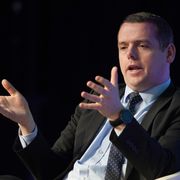 First Minister Humza Yousaf has come under fire for avoiding a Holyrood debate on transparency within the SNP.
Scottish Tory leader Douglas Ross used his party's debating time on Wednesday to seek clarity on the financial situation within Scotland's ruling party.
Mr Ross, MSP for the Highlands and Islands, said that while the first minister and SNP leader had been "happy" to speak to the media, he was "unwilling" to answer questions in the chamber.
The MSP for the Highlands and Islands, who is calling on Mr Yousaf to make a statement about SNP governance, said: "Today marks 16 years since the SNP were elected into government.
"During that time we have seen secrecy, spin and cover-ups from the heart of government.
"Today is an opportunity for SNP members to say enough is enough."
The debate was sparked due to the ongoing Police Scotland investigation into the SNP's funding and finances.
Mr Ross said "crucial questions" were still to be answered, including how funds raised for indyref2 have been spent and surrounding the motorhome seized from outside Nicola Sturgeon's mother-in-law's home.
Mr Ross said: "I think it's really important that we have transparency at the heart of government and we have a governing party that is willing to answer these questions. But sadly, we don't."
No answers were given in response to the questions and instead Mr Ross was repeatedly asked to reveal the Scottish Conservatives' membership numbers amid the row over transparency.
With Mr Yousaf absent from the chamber, parliamentary business minister George Adam spoke for the Scottish government.
He noted how the Conservatives at Westminster had "illegally prorogued the UK Parliament to avoid debate and scrutiny" and highlighted that at the Scottish Conservatives conference last weekend, Prime Minister Rishi Sunak would "only agree to speak to the Scottish press if he could hand-pick the media".
He also said that "within days" of being elected, SNP leader, Mr Yousaf had announced a review of governance within the party.
Mr Adam said: "I am not going to stand here and claim that there are not issues in the SNP which need to be addressed.
"But I can stand here and say these issues are going to be addressed."
Ms Sturgeon's husband, former SNP chief executive Peter Murrell, was arrested as part of the police probe alongside ex-treasurer Colin Beattie. Both men were subsequently released without charge pending further inquiries.
Earlier on Wednesday, SNP leader Mr Yousaf confirmed this party had signed a contract with a new auditor more than half a year after the previous firm quit.
Read more:
SNP signs contract with new auditors
Nicola Sturgeon says SNP crisis beyond her 'worst nightmares'
Ex-SNP treasurer 'unaware' party had bought £100,000 motorhome
Humza Yousaf brands Scottish Tory leader Douglas Ross a 'hypocrite'
During the debate, Scottish Labour's Jackie Baillie said the "culture of secrecy, spin and cover-up at the heart of the SNP" had been "laid bare".
Saying she could not comment on a live police investigation, the MSP for Dumbarton added: "But suffice to say, if you had told me 10 weeks ago that I would witness the resignation of the first minister, the arrest under caution of her husband Peter Murrell, former chief executive of the SNP, the arrest of Colin Beattie MSP, former SNP treasurer, and a blue forensic tent on the front lawn of Nicola Sturgeon's home, I would have said you were delusional."
Ms Baillie branded it a "shameful episode" in Scottish politics.
She added: "And what we are witnessing now is the arrogance of a party who have been in power for far too long, thinking they are untouchable and treating this parliament and the public with contempt."
© Sky News 2023