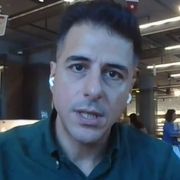 The chief executive of Pret a Manger has said he will "continue to look after our people and our customers", despite warnings from the Bank of England about inflation.
The governor and chief economist of the Bank of England have warned that increases in wages and prices could damage the bank's efforts to cool inflation.
But speaking to Sky News' Ian King Live programme on Wednesday, Pano Christou said: "I think from Pret's perspective, we're focussed on two things.
"Number one is giving our teams the right pay to ensure they are looked after during these challenging environments… and that our people can live the lives they deserve to live.
"And I think the other focus will be ensuring we've got great value for our customers.
"So obviously the government and Bank of England are accountable for looking after their inflation but from our perspective, our people and our customers are what we will continue to look after."
He added: "Over the past year we've given our staff almost a 20% increase – and I wouldn't be surprised if we're having to come back this year and do that again if inflation stays where it is."
The words come after BoE chief economist Huw Pill told a podcast that people should accept they are poorer, instead of responding to higher costs by asking for higher wages or charging customers more money.
Read more:
Ed Conway: It's true to say the UK has become worse off. But some have felt the brunt more than others
Inflation eases but still remains above 10% as food costs at 45-year high
Mr Pill's remarks echoed earlier warnings from Bank governor Andrew Bailey.
Inflation remains above 10% despite consecutive interest rate increases since December 2021 in an effort to cool demand.
While much of the inflation is due to factors outside the Bank's control, such as energy and food costs, it is worried about secondary effects, such as wage increases, making its job more difficult.
When Mr Christou that he was "doing exactly what Huw Pill doesn't want you to do", the Pret boss responded: "I acknowledge his point of view.
"I think that if inflation does come down, we will look to manage things in the way that we can and to the best of our ability.
"But our staff come in very early in the morning working extremely hard for us, unemployment is still very low, and I think we have a duty to ensure that we are looking after our people in the right way and supporting them through this difficult time."
© Sky News 2023