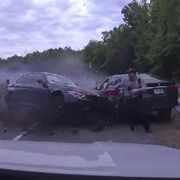 A US police officer made a "miraculous" escape when an out-of-control car spun towards him at more than 120mph while he was speaking to the driver of another vehicle.
Dashcam video captured the moment a BMW – a high-performance M3 – careered across the carriageway in Virginia.
The officer was standing alongside a BMW 7 Series on its passenger side when he spotted the other vehicle heading in his direction at high speed.
He managed to avoid the main impact with just minor injuries as the M3 collided with the stationary car before then hitting the patrol vehicle.
The officer, who had stopped the other vehicle for allegedly speeding, was said to be "just glad to be alive" after the incident on Fairfax County Parkway.
The driver of the BMW 7 Series was taken to hospital with minor injuries and later discharged.
The 17-year-old driver of the BMW M3, who was charged with reckless driving, and two passengers sustained minor injuries in Monday's crash.
Regarding the officer's narrow escape, Fairfax County police chief Kevin Davis said: "It's just miraculous. It's quite the story for him to eventually tell.
"But right now, he's just glad to be alive.
"Cool, calm and collected, he hops over that guardrail and immediately gets on the radio."
Read more on Sky News:
New drivers aged under 25 could face young passenger ban
He added that the officer's name was likely to be released at some point, but that he needed time to process what had happened.
In a further statement, Fairfax County Police Department said "parents and guardians should consider using this video as an opportunity to have a conversation with their teen drivers" about driving behaviour.
"This is an important reminder that life can change in an instant. It is the driver's responsibility to drive safely and arrive safely," the force added.
© Sky News 2023