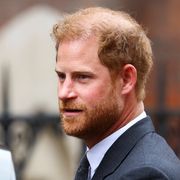 Palace officials negotiating with the backing of the Queen threatened to bring in lawyers to secure a private phone-hacking settlement with News Group Newspapers (NGN), court documents have revealed.
Staff at the palace suggested bringing in legal experts after becoming increasingly "frustrated" with a lack of response from Rupert Murdoch's top news executives in 2018.
They sent emails expressing an "institutional appetite" to reach an out-of-court deal with the group over claims royal family members had their phones hacked by the now-defunct News Of The World.
In the messages, palace officials revealed how the Queen was "aware" of the talks and had given her "full authority".
The emails were shared in court as part of Prince Harry's own claim against NGN – which also publishes The Sun – over alleged unlawful information gathering at its two titles.
The group is bringing a bid to have Harry's case thrown out, along with a similar claim by actor Hugh Grant, at a three-day hearing in London which started on Tuesday.
NGN argues that the claims have been brought too late.
The emails involve discussions in December 2017 between the Queen's former press secretary, Sally Osman, News UK chief Rebekah Brooks and Robert Thomson – the chief executive of the Rupert Murdoch-owned News Corp.
In one email, sent by Ms Osman, she expressed a desire to reach an agreement which would "draw a line under such matters between our two institutions".
"The fact that we can have this conversation, with The Queen's full authority and knowledge of the scale and effect of hacking and surveillance on her family, their staff, associates, friends and family, is important with a view to resolution in the near future," she added.
However, having organised a meeting between the two sides, Ms Osman expressed her "disappointment" that no progress had been made by March 2018.
Read more:
Prince William settled phone-hacking claim against News Group Newspapers
Five things we learned from Harry's court submission
Eyewitness: What was it like in court for Harry's surprise appearance?
She wrote: "Assuming you received my email of 11 December last year, following our very genial and I thought constructive meeting, I was somewhat disappointed not to receive an acknowledgement, let alone a reply.
"I do, of course, appreciate, that business is busy. However, there is also an increasing sense of frustration here at the lack of response or willingness to engage in finding a resolution to what is considered outstanding business between the Royal Household and News Corporation.
"The hope is still to find a resolution without involving lawyers."
The email prompted apologetic replies from both Ms Brooks and Mr Thomson – who put the missed email down to the latter's busy schedule and a "mountain" of daily memos.
However, Ms Osman pushed for a resolution again in May, expressing an "institutional appetite to expedite things and start having a more tangible dialogue".
"We are still very much of the mind that we don't want this to become embroiled in legal negotiation but it would clearly assist if our lawyers now spoke to yours," she added.
On Thursday, David Sherborne, representing Harry, said in court that the late Queen was previously involved in "discussions and authorisation" that the Royal Family would not pursue claims against NGN until after the conclusion of the litigation over hacking.
Mr Sherborne said in written arguments that the agreement "meant that the claimant could not bring a claim against NGN for phone hacking at that time".
He added: "It was agreed directly between these parties, as opposed to their lawyers… that at the conclusion of the Mobile Telephone Voicemail Interception Litigation (MTVIL) News would admit or settle such a claim with an apology.
"In 2017, the claimant and the institution began to push for the outstanding claim to be resolved.
"However, News filibustered in relation to this until, in 2019, the claimant had enough and issued his claim."
The barrister told Mr Justice Fancourt, hearing the case, that what Harry did know by 2012 was that "an agreement [had been] reached between the institution and News Group".
He added: "It is precisely because of the secret agreement that no claim was brought before 2019."
Harry's lawyers also argue that NGN's bid to have his claim thrown out is an attempt to go behind the "secret agreement".
Mr Sherborne also told the court that Harry's brother, Prince William, had "recently settled his claim against NGN behind the scenes".
The hearing is due to end on Friday, when the judge will determine whether their claims will progress to a trial – which is due to be heard in January next year.
The claim is one of a number of legal actions currently being brought by the Duke of Sussex, who appeared in person at the High Court last month for a preliminary hearing against Associated Newspapers Limited (ANL), publisher of The Mail and Mail On Sunday.
He is also expected to give evidence at a trial over allegations of unlawful information against tabloid publisher Mirror Group Newspapers (MGN), due to begin next month, with Harry due to appear in court in June.
NGN closed The News of the World in 2011 in the aftermath of the phone-hacking scandal but has consistently denied that any unlawful information-gathering took place at The Sun.
© Sky News 2023