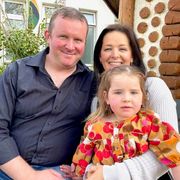 Children with a form of leukaemia can now access a ground-breaking new treatment in Ireland instead of having to travel to Britain.
CAR-T cell therapy is used to treat acute lymphoblastic leukaemia, a common form of child cancer. Around 55 children are diagnosed with the disease in Ireland each year.
The new treatment has been available in England since January 2019, and at least seven Irish families made the journey to Britain to use the therapy, which has been hailed as "revolutionary".
CAR-T involves taking a patient's own T cells and effectively reprogramming them to more effectively target cancer. The cells are then infused back into the patient.
Three-year-old Erin Kenna, from County Kildare, was diagnosed with leukaemia at the age of just four weeks. Chemotherapy and a bone marrow transplant at the age of eight months could not keep her cancer at bay, and so in late 2019 she was referred to Great Ormond Street Hospital in London for a course of CAR-T therapy.
Her mother Theresa said the repeated trips across the Irish Sea "made it really difficult" and "made a hard situation even harder".
She added: "We had to try and find accommodation in London, we had to bring our two older children with us, and take them out of school."
The travel was gruelling, but the treatment was seen as Erin's last chance.
Her father Joe said it would have been "palliative care if we hadn't had the option to go to London – just manage the pain".
"But thankfully it all worked out and there's the result…she's brilliant."
Erin, now in remission, was present at Crumlin Children's Hospital in Dublin today for the launch of CAR-T therapy services in Ireland.
Irish Minister for Health, Stephen Donnelly, said: "Today means that patients will no longer have to travel to the UK to access this treatment and will, instead, have access to this novel treatment in Ireland for the first time and can remain closer to their home, families, and support networks."
Dr Pamela Evans, who leads the project and is a consultant haematologist at Crumlin Children's Hospital, told Sky News the UK was "to the fore in pioneering this whole therapy from its inception".
She added: "We're indebted to our UK colleagues in being able to help us treat our patients when we could not, but we're delighted today to be able to announce the CAR journey for our patients is far simplified."
Read more from Sky News:
Excess weight almost doubles a woman's risk of womb cancer, new study finds
Cancer is a taboo topic in some communities. This barber shop has created a safe space to talk
The first child to be treated with the therapy at Crumlin is 15-year-old Alex McEleney.
"It means a lot to me because I would've been having it in England if it wasn't for all the progress we made," he said.
"So I'm going to be the first child to have it in Ireland, and I'm just dying to get it started and finish it by summer, get out with my friends again."
Hailing the significance of the announcement, Dr Evans said that CAR-T therapy is the most significant advance in a generation for acute lymphoblastic leukaemia – and now it's finally available for Irish children in their own country.
© Sky News 2022