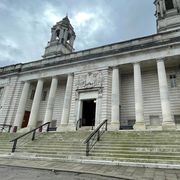 A mother has been detained under the Mental Health Act, having been found not guilty of her three-year-old son's manslaughter and neglect by reason of insanity.
Olabisi Abubakar, 42, from Cardiff was detained indefinitely under the 1983 Mental Health Act on Tuesday due to her being deemed a risk to the public.
Cardiff Crown Court heard that Abubakar fasted her son Taiwo to death during the COVID-19 lockdown, believing it would save the nation from the virus.
She was found thin and severely dehydrated in June 2020 next to the body of her son in their flat in the Cathays area of the city.
Police forced entry into the property on 29 June and by that time they had been fasting for about three to four months, the court heard.
A post-mortem found Taiwo, who had been dead for some time, weighed 22lb and had died from malnutrition and dehydration.
Abubakar, who came to the UK as an asylum seeker from Nigeria in 2011, had been suffering with paranoid delusions.
As a devout Pentecostal Christian she had fasted for many years. She had placed herself and her son on an extended fast in the hope God would grant protection to the country from the virus.
The judge, Mrs Justice Jefford, described the case as "extremely sad".
She said that as well as fears around the pandemic, an ongoing dispute with a neighbour, financial concerns and concerns over her immigration status had contributed to Abubakar's psychological condition.
Mrs Justice Jefford was addressing Abubakar who appeared via video link from a psychiatric facility.
"The jury found you not guilty of all these charges by reason of insanity," the judge said.
Read more on Sky News:
Woman stabbed to death by stranger
Bride killed moments after leaving reception
"That reflects the fact that at the time, you had a serious mental illness, paranoid schizophrenia and, as a result, you did not know what you were doing.
"What happened to you and your children is extremely sad, and the result of that illness.
"You had been a good and caring mother and your children were happy, loved and well cared for," the judge added.
© Sky News 2023