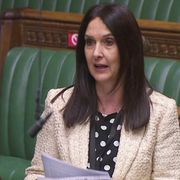 An MP who travelled by train with COVID in the early stages of the pandemic is facing a 30-day suspension from the House of Commons – raising the possibility of a by-election.
Margaret Ferrier was found by the standard's watchdog to have damaged parliament's reputation and put people at risk by failing to self-isolate while suffering from the virus in September 2020.
The Rutherglen and Hamilton West MP has already been ordered to complete 270 hours of community service after admitting recklessly exposing the public "to the risk of infection, illness and death" as a result of her behaviour.
Politics live: Chancellor aims dig at Biden as green energy plan revealed
The former SNP politician was kicked out of her parliamentary party when the allegations emerged but resisted pressure to resign – and now sits as an independent.
Parliament's standards committee launched an investigation when criminal proceedings finished and today recommended she be suspended from the Commons for 30 days.
The same sanction was recommended for Tory MP Owen Paterson after he was found to have broken lobbying rules – but he resigned in the wake of a scandal which saw Conservative MPs try to save him from the punishment.
Under the rules, any suspension of 10 days or more can trigger the Recall of MPs Act which means that if 10% of an MP's constituents sign a petition, a by-election shall be held.
However, MPs must vote to back the suspension.
If they do, Ms Ferrier has the option to appeal the ruling or resign – with a by-election also triggered in the case of the latter.
'Panic stations in SNP HQ'
Labour's shadow Scottish secretary Ian Murray said she should "do the right thing and stand down as an MP".
Any contest at the polls would be seen as a test for Scotland's new First Minister Humza Yousaf, with Labour eyeing an opportunity to make in-roads in the wake of Nicola Sturgeon's sudden resignation.
On the prospect of a by-election, a Labour source said: "This is a seat that we can win. There will likely be panic stations in SNP HQ."
But Mr Yousaf said: "There should be a by-election. We've said from day one that Margaret Ferrier should have stepped down, of course, because of her reckless actions.
"We look forward to fighting that by-election and our strong track record but we won't take anything for granted, we won't be complacent.
"It will take hard work but it is the right thing for her to do, to stand down."
The MPs on the standards committee are the same group that will adjudicate on whether Boris Johnson deliberately misled parliament over partygate.
Ms Ferrier developed COVID symptoms on Saturday 26 September 2020 and after taking a test, still went to church and had lunch with a family member the following day.
On the Monday, while awaiting the result of the test, she travelled by train to London, took part in a Commons debate and ate in the Members' Tearoom in parliament.
That evening she received a text telling her the test was positive but instead of isolating, she travelled back to Scotland by train the following morning.
Parliamentary Commissioner for Standards Daniel Greenberg said Ms Ferrier had breached the code of conduct for MPs "by placing her own personal interest of not wishing to self-isolate immediately or in London over the public interest of avoiding possible risk of harm to health and life".
She also breached the code because "her actions commencing from when she first took a Covid-19 test to when she finally began self-isolation caused significant damage to the reputation and integrity of the House of Commons as a whole, and of its members generally".
© Sky News 2023