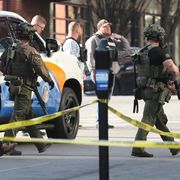 Five people have been killed and eight have been wounded – including two police officers – in a shooting at a bank in Louisville, Kentucky, police have said.
One of the officers is in a critical condition and the suspected shooter is dead, Louisville Metro Police Deputy Chief Paul Humphrey added.
Officers who arrived on the scene "encountered active gunshots still being fired inside the location at that time," Mr Humphrey said.
"The shooter was confirmed to be dead on the scene," he added. "We do not know exactly the circumstances of his death at this time."
The FBI said its agents were also responding to the shooting.
Witnesses who left the building told a local TV station they heard gunfire inside.
Local media said people were being taken from the scene in ambulances.
Mr Humphreys added: "We believe this is a lone gunman involved in this, that he did have a connection to the bank.
"We're trying to establish what that connection to the business. But it appears he was a previous employee."
Investigators are not yet clear on how the gunman died.
Speaking in a news conference, Louisville mayor Andy Greenberg thanked the emergency response in the city, adding "without a doubt, their actions saved lives".
"We will come together as a community to work to prevent these horrific acts of gun violence from continuing here and around the state," he said.
Kentucky Governor Andy Beshear said he was heading to the scene and tweeted: "Please pray for all of the families impacted and for the city of Louisville."
The shooting happened in a building on East Main Street that houses the Old National Bank in the city of 625,000 people.
© Sky News 2023