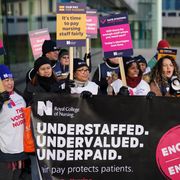 Escalating nurse strike action in England by withdrawing protection for emergency hospital care will endanger patient safety, an NHS leader has warned as the government said a "full and final" pay offer had been made to staff.
Matthew Taylor, chief executive of the NHS Confederation, which represents health trusts, also raised concerns over the possibility of nurses and junior doctors walking out at the same time in the dispute over pay.
His comments came as the Royal College of Nursing (RCN) announced on Friday its members will strike for 48 hours from 8pm on 30 April after rejecting the government's pay offer.
Politics latest – Tories set to lose 'more than 1,000 seats' in local elections
NHS nurses in emergency departments, intensive care and cancer wards will also take industrial action for the first time.
In a letter to RCN chief Pat Cullen, Health Secretary Steve Barclay said he was "disappointed" at the rejection of the pay deal, but offered talks to "avoid this escalatory action" and made clear the offer still stood.
Mr Taylor told Trevor Phillips on Sky's Sophy Ridge On Sunday programme that removing derogations agreed by the unions – protections for certain areas of care – would have an impact.
"We are concerned about the speculation that the possibility of a combination of junior doctors' and nurses' action, so both of these things would be a significant escalation," he said.
"It's very difficult to see how either of those things wouldn't endanger patient safety and dignity."
His warning was echoed by Mr Barclay, who wrote in his letter to Ms Cullen: "The decision to refuse at this stage any exemptions for even the most urgent and life-threatening treatment during this action will, I fear, put patients at risk."
The cabinet minister added: "The strike action you have called will cause significant disruption at a time when the NHS is already under extreme pressure. I urge you to reconsider your planned strike on 30 April – 2 May.
"I would therefore welcome a meeting with you to discuss how we can avoid this escalatory action – recognising that the offer we negotiated with you and other unions stands."
'A fair and reasonable offer'
Meanwhile, Conservative Party Chairman Greg Hands told Sky News a "full and final" pay offer had been made to nurses.
He pointed out NHS members of Unison, the largest NHS union, had accepted the deal of a 5% pay rise this year and a cash payment for last year.
The RCN leadership had also recommended the package, which its members then rejected.
Mr Hands said: "We think that we've made a fair and reasonable offer.
"It is a full and final offer. But we are waiting for the other results to come in from the other unions."
He added: "Steve Barclay [the health secretary] is always willing to talk so long as there aren't preconditions attached, and so long as there isn't the threat of strikes going on at the moment."
'The wrong thing to do'
Labour's shadow health secretary Wes Streeting urged the RCN to continue to protect emergency lifesaving care during further strikes.
He said: "I'd appeal to them, if they are going on strike again, to continue to protect patient care… I am really worried about patient safety actually in the middle of all of this."
He told Sky News: "There just aren't circumstances in which I'm going to sit on your programme and say I think it's right to remove cover for emergency care, for cancer care. I think that'd be the wrong thing to do."
'Nurses will not turn their backs on patients'
Ms Cullen said: "Members have clearly decided and I absolutely believe in them, that this is neither a fair nor a reasonable offer from the government."
She added: "I've never come out and said, nor has the Royal College of Nursing that we will coordinate strike with the BMA (the British Medical Association).
"What we're very clear about is that we work very closely with our colleagues in the BMA.
"Doctors and nurses work side by side on every single shift 24 hours a day, and they understand the pressures that they're both under.
"And we will continue to work closely with our colleagues and the BMA, but there are no plans to coordinate strikes."
© Sky News 2023