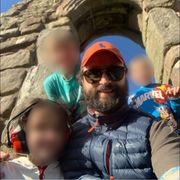 A father of three who got trapped in an indoor adventure cave for more than four hours has died from his injuries.
Carl O'Keeffe, 49, from Lancaster, was rescued from the Kong Adventure centre in Keswick, Cumbria, on Saturday 22 April after reportedly slipping and becoming stuck inside one of the caves.
Staff at the rescue centre were unable to pull him out and emergency services were called just after 3pm.
Members from Cumbria Fire and Rescue, police, Keswick Mountain Rescue, Cumbria Ore Mines Rescue Unit, Great North Air Ambulance and the Northwest Ambulance Service's Hazardous Area Response Team all attended the scene.
Mr O'Keeffe had entered the indoor cave at the adventure centre in the Lake District with his niece during a birthday party.
After becoming trapped, he was rescued more than four hours later and taken to the intensive care unit at Carlisle hospital with crush injuries.
But his family confirmed he passed away at 3pm on Sunday 30 April.
According to a tribute from his sister, Olivia Short, it became apparent that Mr O'Keeffe's injuries "were severe and he would not be able to survive" shortly after he was taken to hospital.
"He was then moved to a private room and I was able to stay with him so that he could die with some dignity," she added.
A tribute from his family said: "Carl was a devoted parent and he will leave a huge hole in their lives.
"He was a strong advocate for the neurodiverse community. He taught people to learn what adjustments they needed in life and to not only accept them but to live them.
"He was often seen in dark glasses and a fedora hat as he was photophobic. He had a brilliant mind and was in the process of applying to start an astrophysics PhD.
"He was fascinated by solar storms and had been predicting the one that happened this week while he slept. He spent years having the NASA Hubble photos tattooed onto his arm."
In her own tribute, his sister Ms Short said: "At 3pm today I sat with Carl and said goodbye forever.
"He was my baby brother and over the last few years became my best friend."
She described Mr O'Keeffe as her "support and my rock", adding: "I'm broken-hearted. As are the rest of our family".
A few days earlier, Ms Short wrote on Facebook that "this fight is too much for Carl".
"He has dead portions of bowel and multi organ failure. He cannot survive surgery but also cannot survive this. It is hours not days that he has left. He is only here now due to the machines."
She added: "This is my beautiful intelligent fascinating brother. Who took his niece into an indoor cave during a birthday party and it killed him."
A spokesperson for Cumberland Council said: "We have been notified of an incident that took place at the Kong Adventure Centre, Keswick, and are investigating the matter, as the regulating body."
A spokesperson for Kong Adventure Centre said: "All the staff at Kong Adventure are shocked and saddened to hear this terrible news.
"Our thoughts at this time are with the family, friends and everyone involved."
© Sky News 2023