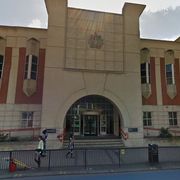 A child refugee was left "distressed and crying" after a teenage boy forcibly kissed him and held him against his will in the bedroom of a hotel housing asylum seekers, a court has been told.
The 15-year-old defendant allegedly took a 12-year-old boy to his room, where he pushed him on to a bed "more than 10 times" as he tried to escape.
The accused, who cannot be named because of his age, has denied one count of sexual touching of a child under the age of 13 last year.
His alleged victim, who also cannot be named and is now 13, appeared at Stratford Youth Court, east London, by video-link from a separate room and said he would feel "disgusting" if he saw the defendant again.
Prosecutor Amanda Hamilton said both boys had been residents of a hotel in Waltham Forest, east London, at the time of the alleged assault.
She told the court the defendant came out of his room and asked the boy for help fixing his television.
The boy told the defendant he did not know how to fix it, and when he tried to leave, the defendant "grabbed me by my hand and took me to his room".
Though the boys speak different languages, the alleged victim said they communicated in partial English and through gestures.
He said the defendant started to call him "brother", and kissed him "many times".
In his police interview, the boy indicated to his face and neck when asked where the defendant had kissed him.
And he gestured to his shoulders when asked how the defendant had pushed him back on to the bed.
He said he eventually managed to escape and find his mother.
Ms Hamilton said the boy's mother said he had been "distressed and crying".
Police arrested the defendant the same day, and interviewed the alleged victim the following day.
The trial continues.
© Sky News 2023