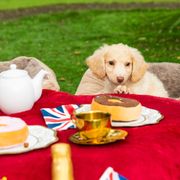 A rescue shelter in Cardiff has held a dog-friendly tea party for its residents ahead of the coronation, in a bid to inspire people to follow the King's example by adopting animals in need.
The pooch-friendly party was held at The Rescue Dog Hotel in Wales's capital last Thursday with lots of tasty treats on offer.
The late Queen Elizabeth was known for her love of corgis and the King is also a dog owner.
His Majesty has two Jack Russell Terrier rescue dogs called Beth and Bluebell.
The Adoption Mission, which provides shelters with support and training, hosted the party for the shelter.
Director and trustee of The Rescue Dog Hotel, Toria Acreman, said she hoped more prospective pet owners would be inspired by the King to "consider adoption".
"It's amazing that King Charles III has made history by welcoming the first shelter dogs to live in Buckingham Palace and we hope this inspires more prospective pet owners to consider adoption themselves," she said.
"We're so thankful for the ongoing support of The Adoption Mission, championed by Pedigree and Whiskas, who continue to help us raise awareness of the misconceptions surrounding adoption and help get the animals in our care ready for their forever homes, with valuable training and much-needed food grants."
Suggestions for how to keep dogs entertained over the bank holiday celebrations include baking a "pup-cake" which would include ingredients that are not toxic to dogs, unlike many human foods.
Dr Tammie King, pet behavioural therapist at the Adoption Mission programme, also says owners should make sure their pets stay cool and that they have a safe space in case it becomes too crowded for them.
Read more:
Greater police powers to tackle coronation disruption
Princess Anne: Slimmed-down monarchy 'doesn't sound like a good idea'
Why the King won't be universally welcomed in Wales
Owen Johns, spokesperson for the Adoption Mission programme, added: "We're proud to have been supporting over 100 animal shelters across the UK for nearly two years now with our Adoption Mission programme.
"We help rescue centres and foster networks with staff training, food donations and advice for adopters to help them rehome more animals in the hope that one day together we can end pet homelessness. "
© Sky News 2023