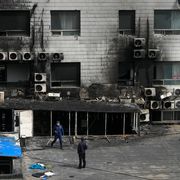 A fire at a hospital in China has killed at least 29 people, authorities said.
The blaze broke out in a wing containing critically ill patients at the Changfeng Hospital in Beijing on Tuesday night.
Deputy head of the Fengtai district, Li Zongrong, said 13 men and 16 women were killed in the fire including 26 patients, one family member, a nurse and a caretaker.
The youngest victim was 40 years old and the eldest 88.
Some of those trapped by the blaze were forced to escape through windows by climbing down bedsheets tied together.
A total of 39 people are being treated for injuries, three of them are in critical condition, officials said.
Authorities said around 142 people were evacuated during the blaze with 79 patients moved to nearby hospitals and a further 78 relocated to an unaffected building on-site.
Read more:
Fox News agrees $787.5m settlement in defamation lawsuit
One dead and five injured after multi-storey car park collapses
The cause of the fire is being investigated but officials say they believe it originated from welding sparks from work being carried out in the hospital's inpatient wing.
A total of 12 people have been detained, including the hospital's head and her deputy, along with the head of the construction crew.
A city-wide investigation into fire safety measures in care homes and high-rise buildings has also been launched.
© Sky News 2023