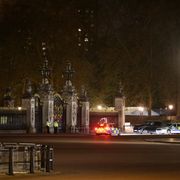 The government is "in no way complacent" about security surrounding the King's coronation after a man was arrested outside Buckingham Palace overnight, the security minister has said.
Tom Tugendhat added that he is "very proud of the response" to the incident.
A man was arrested after throwing what is suspected to be shotgun cartridges into palace grounds, the Metropolitan Police said.
A precautionary controlled explosion was carried out outside the palace and the man was held on suspicion of the possession of an offensive weapon, the force added.
Officers said a knife was found on him but he did not possess a gun.
Mr Tugendhat told Kay Burley on Sky News: "I'm very glad to see that the police reacted incredibly quickly, incredibly professionally, to the incident last night.
"We're in no way complacent. And I'm very, very proud of the response that the police have done.
"The intelligence services, the police and others have been working on this extremely effectively for months."
Buckingham Palace confirmed neither the King nor Queen Consort were at the palace at the time of the incident.
Asked how much security for the coronation would cost the taxpayer, Mr Tugendhat was unable to give a figure.
"It's very difficult to pull that out as a separate figure for the simple reason that we've got an enormous amount of effort going in for a major incident like this in different parts of the country," he said.
Pressed on figures of at least £100m just for security, Mr Tugendhat said: "It's not a figure that I recognise, sorry."
He said: "Forgive me for not being able to break it down at this point.
"The reason I don't want to do that is because there's police forces around the country who are doing different things and answer slightly differently through their own different structures."
He said he did not have a number for how much it was costing the Metropolitan Police, but added: "What I've been doing is making sure that the Met are ready, and that means preparing with them and the National Crime Agency and the intelligence services to make sure they have all the resources they need.
"We have spent an awful lot of time over the last several months preparing for any number of different threats because the reality is this is a very complex event."
© Sky News 2023